Ingredients:
about 16 fl. oz. Soylent 1.4 (refrigerated, prepared some hours previously)

"a couple" fl. oz. tap water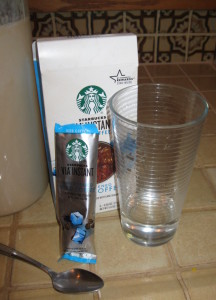 Instructions:
Pour coffee powder in bottom of glass.

Add enough water to dissolve the coffee powder; stir.

Pour Soylent. Soylent will mostly sink below the coffee; stir with a somewhat vertical motion until color is uniform.

Today is a good day to live! Drink; enjoy; move fast; break things!