(Previously, previously on An Algorithmic Lucidity.)
Wow, has it already been a year since last RustConf?—give or take the exact date of the event sliding a bit between years—and give a month-and-a-half of procrastination before being truly struck by the mounting realization that my opportunity to blog something about it before the opportunity expires has almost—but crucially, not quite—faded into oblivion. And a year-and-a-quarter since my first contribution to the compiler? I've recently moved into the top hundred contributors by commit count, because GitHub's contributors graph page only goes down to a hundred and my life is controlled by what things GitHub happens to provide graphs for.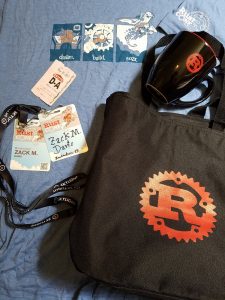 So in the evening of Wednesday 15 August, I boarded the Amtrak Coast Starlight at Jack London Square station in Oakland for the long pilgrimage north to Portland to visit friend of the blog Sophia and attend this year's RustConf.
The train was nearly three hours late. (More like Slowest Starlight, am I right?)
On Thursday, I convened a Berkeley Slate Star Codex meetup in exile with Sophia and another local.
I don't think I was very well-prepared to take advantage of the conference itself this time around. I attended the Friday "advanced" training session, but the content was mostly the same as last year (I probably should have chosen the Tock session instead), and I don't actually own a laptop (I used "my" employer-owned laptop last year), and trying to make do with my accessorized phone and the playground was not an optimized experience.
Then the day of the conference itself, I overslept (and left my badge at Sophia's house), and had a high-neuroticism day induced by social-media drama that I had inflicted on myself the previous night, which distracted me from the content of the talks and the challenge of actually connecting with people on the hallway track (the most valuable part of any conference).
But, you know, there will be other conferences. Rust isn't going anywhere. And neither am I.
Except, you know, to Portland or wherever for the occasional conference.